Surface Integrity describes the influence of surface properties and conditions upon material performance.
It has long been known that the method of surface finishing and the complex combination of surface roughness, residual stress, cold work, and even phase transformations strongly influence the fatigue and stress corrosion behavior of materials. The influence of surface finishing is most pronounced in the high strength alloys, which are typically chosen for the most critical applications.
How is it Measured?
Lambda provides a comprehensive selection of testing and engineering services for the design of manufacturing processes to ensure optimal residual stress, cold working, and surface finish. Procedures such as grinding, milling, turning, broaching, welding, and heat treatment can be optimized to provide superior component strength. Surface enhancement processes such as shot peening, low plasticity burnishing (LPB®), and laser shocking can be optimized to provide improved fatigue strength, damage tolerance, and stress corrosion cracking resistance.
Our surface integrity assessment testing services are described below.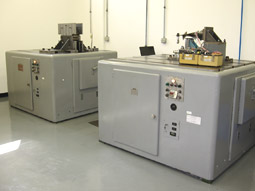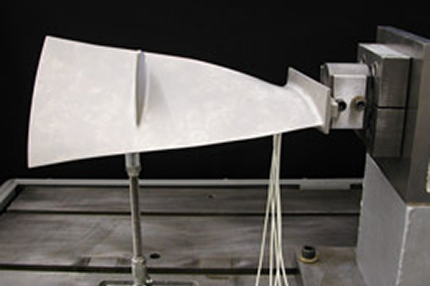 High Cycle and Low Cycle Fatigue Testing
Fatigue testing is required to characterize the influence of residual stress and cold work on fatigue strength. Lambda has both high and low cycle fatigue testing capability specifically developed for measuring the effect of residual stress on fatigue strength and damage tolerance. Fatigue tests can be conducted on full components or feature specimens.
Features of Fatigue Testing:
High and low cycle fatigue testing for characterization of residual stress influence on fatigue strength and damage tolerance
Design and manufacture of fatigue test specimens and fixtures
Custom designed fatigue specimen geometries for measuring the effects of residual compression on fatigue strength
Up to 50,000 lb load capacity fatigue machines
Active corrosion fatigue testing
Elevated temperature testing capabilities
Continuous compliance monitoring
Video capture of crack propagation
Machining of simulated damage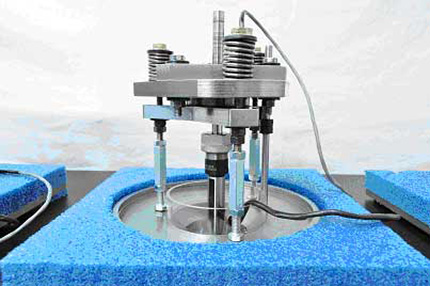 Rolling Contact Fatigue Testing
Bearings are used in a significant number of critical mechanical systems. The useful life of these systems is directly related to the fatigue strength of the bearing. Rolling contact fatigue (RCF) is a leading cause of bearing failures. Parameters such as residual stress, retained austenite, surface finish, and lubrication type play a significant role in bearing life.
Lambda provides rolling contact fatigue testing for the study of bearing performance. Using a ball-rod type RCF machine system built by our engineers, Lambda designs and conducts bearing fatigue tests to aid in the optimization of bearing system parameters, material properties, and fatigue performance.
Features of Rolling Contact Fatigue Testing:
Measurement of residual stress and retained austenite before and after RCF testing to study their effect on fatigue
Ability to vary contact loads
Studies of surface roughness effects on bearing life
Testing of different ball materials or hardness
Studies of various lubrications
Weibull probability analysis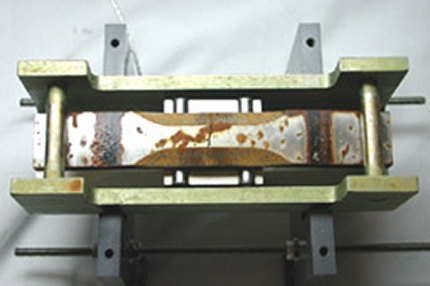 Stress Corrosion Cracking (SCC) Testing
Stress corrosion cracking (SCC) is a serious metallurgical problem facing many industries, including nuclear, aerospace, and power generation. A combination of a susceptible material, a corrosive environment, and tensile stress over a threshold limit will result in SCC. Machining, welding, and other fabrication processes can produce high tensile residual stresses and cold working in the surface and near-surface material of critical components providing the driving mechanism for SCC. Surface enhancement processes can be used to mitigate SCC by eliminating the tensile stresses. Lambda provides SCC testing services to measure the effect of machining and surface enhancement methods on SCC mitigation.
Features of Stress Corrosion Cracking (SCC) Testing:
Numerous test fixtures for simultaneous testing of multiple specimens
Instrumented load bolts for continuous computer monitoring and recording of load versus exposure time
Custom corrosive solutions for the simulation of specific environments
In-house manufacture of test specimens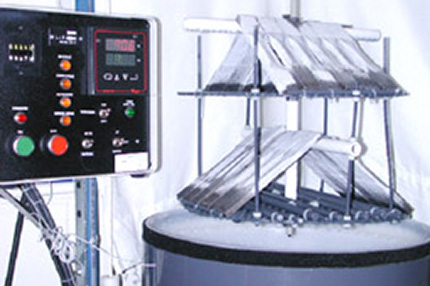 General Corrosion Testing
Surface finish, cold working, and residual stresses can impact the general corrosion characteristics of components. Lambda provides alternate immersion testing to characterize the influence of a surface finishing or machining process on the general corrosion properties of components.
Features of General Corrosion Testing:
Alternate immersion tests per ASTM G44
Large holding rack for multiple sample testing
Evaluation of corrosion pit size and frequency versus exposure time
Pre-corrosion of fatigue samples
Optimization of machining or surface finishing process for minimal corrosion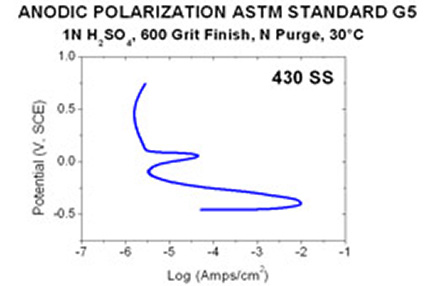 Polarization Testing
Lambda employs a unique method of polarization testing using a custom electrochemical cell to evaluate the corrosion behavior of materials and surface treatments in a given electrolyte. Polarization testing is a rapid form of corrosion testing yielding results in a matter of minutes or hours. It allows for observation of corrosion behavior over a wide range of oxidizing conditions in a particular environment.
Features of Polarization Testing:
Real-time corrosion rate measurement
Rapid testing and assessment
Ability to study individual mechanisms of corrosion
Evaluation of surface treatments and machining on corrosion properties
Ability to study the effect of polarization under load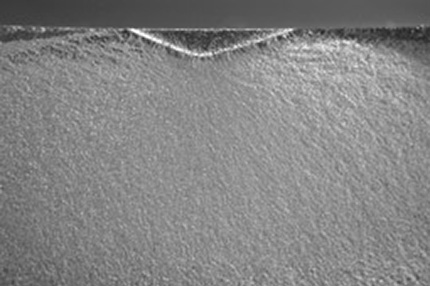 Metallography
Lambda provides metallographic analyses to determine fatigue initiation sites, corrosion damage, and other features relating to component failure. Both optical and scanning electron microscopes are available for an accurate assessment of the failure mode and location.
Features of Metallography:
SEM and optical microscopes
Fatigue failure initiation determination
Fatigue striation counting for approximating applied cyclic stress
Fretting damage and micro-crack analysis
Support for process optimization studies
Questions about our testing parameters or techniques?