Deep rolling is generally done on axisymmetric parts, specifically in fatigue crack prone fillet regions of crankshafts. The main goal of applying the process is to improve the resistance to fatigue failure.
Deep rolling is a mechanical process used to:
Introduce compressive residual stresses on the surface layer
Increase the surface hardness
Improve the surface finish of metallic engineering components
Like Lambda Technologies' patented Low Plasticity Burnishing (LPB®) and Controlled Plasticity Burnishing  (CPB™) surface treatment processes, deep rolling is a burnishing process in which a roller or ball tool is rolled across the metal surface with sufficient force to impart beneficial compressive residual stress. It is typically restricted to lathe applications and simple geometries.
Deep rolling differs from Lambda Technologies' patented processes in that it creates a highly cold-worked surface layer. Deep rolling produces even more cold work than shot peening, revealed by X-ray line broadening and microhardness tests. The high cold work can be beneficial for some materials and applications where elevated temperatures and mechanical overload are not issues.
There are some disadvantages to deep rolling, which is why Lambda Technologies Group works with customers interested in deep rolling to determine if it is the right choice, or if a surface treatment process such as LPB or CPB may produce a better result.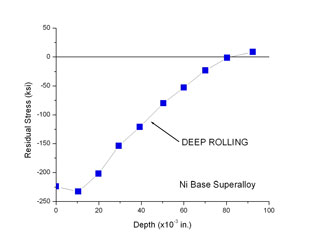 How do LPB and CPB surface treatments differ from deep rolling?
Applicable to difficult geometries: LPB & CPB are not limited to ball tools and lathes for application, allowing the application in hard-to-reach areas

Stable compression: The highly controlled application of LPB, in particular, allows the process to withstand high temperatures and mechanical overloads

Closed loop quality control: CPB is 100% closed loop monitored with component tracking, automatic, immediate acceptance testing, and statistical process control

Accurate & repeatable: LPB & CPB are controlled by CNC or robotics, ensuring a uniform, repeatable production process
Alternate Services Offered by Lambda Technologies Group
Low Plasticity Burnishing (LPB®) >
introduces beneficial compressive residual stress into materials with minimal cold work. This allows the compression to better withstand high temperatures, repetitive loading and corrosive conditions.
Controlled Plasticity Burnishing (CPB™) >
is a variation on our award-winning LPB treatment, specifically designed for applications where low cold work isn't necessary.
Controlled Impact Burnishing (CIB™) >
is a process to treat vulnerable areas of a component with highly controlled impacts to impart a deep, stable layer of beneficial compressive residual stress.